Pros: - Aesthetically gorgeous-looking shell.

- Sufficient bass quality.

- A balanced, U-shape sound signature with a hint of warmth.

- A typical BGVP product with substantial included accessories.

- Good tonal colour quality.

- Has a potential to be a sellable one due to its competitive pricing for its product value ratio.
Cons: - QDC-type 2 pin connector (subjectively, the least-likeable type of 2-pin connector).

- Not the best on detail retrieval and resolution.

- Partly issues on some female vocal-centric tracks that might not that open sounding to some listener.
Hello mates and welcome to my another review here in Head-fi and I want to introduce to you about latest product offering from BGVP.
As we look on BGVP HiFi, what are their particular products that impresses you so much? BGVP DMG? BGVP DM6? Their Art Magic series?
I've done some reviews on their previous product before and most of them, I rated them a passing grade on both tonality and technicalities. But, I'm still hoping for BGVP to keep improving its product quality.
BGVP DH5 is a hybrid driver IEM with one (1) dynamic driver and four (4) balanced armatures.They are part of the Art Magic series, their entry-level to midrange offering with hybrid driver set-up. The dynamic driver is coated with Beryllium to provide strength, better bass response and less distortion compare to the regular dynamic driver. Once again, BGVP impress me again as they put a two (2) Knowles Balanced armature drivers (RAF-32873) and two (2) custom BA that tailored for BGVP's needs (I have a hunch that this somewhat similar to "Phoenix" BA that was implemented on their BGVP DN2).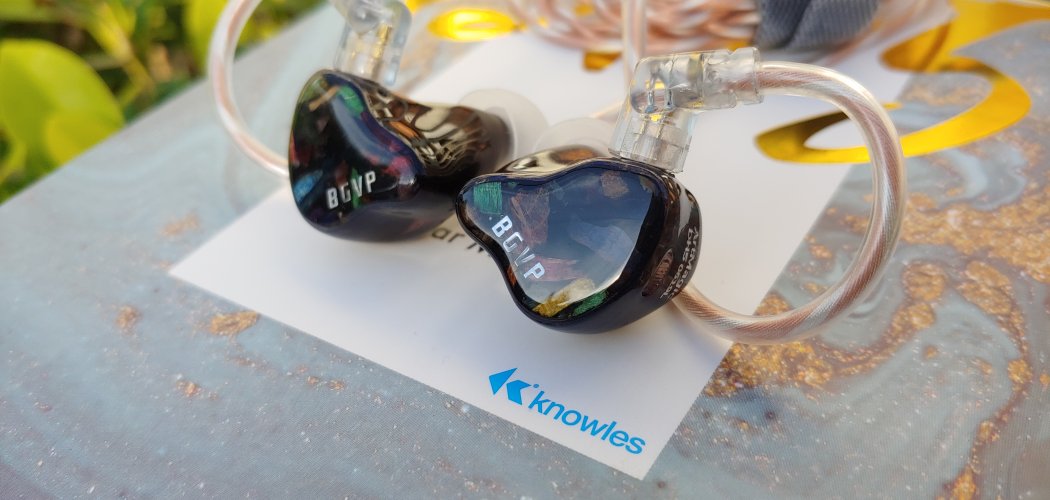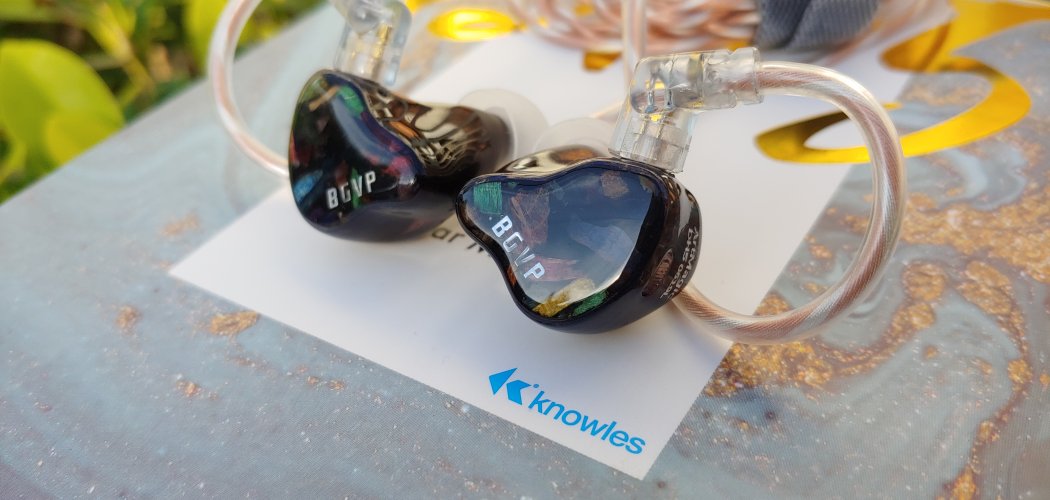 Another surprising turn on BGVP in regard of this product is the switching from MMCX to 2-pin QDC type connector. We all know that all BGVP products are usually implemented a MMCX connector but the decision on using 2-pin QDC type connector is an unforeseen to me.

The shell is medium-size in my ears and made of medical grade resin with a wood faceplate thats looks pleasing to my ears.They are amazing fit well into my lug holes without any discomfort and soreness that I can likely wear them for long listening session. BGVP also put an electronic crossover board that acts as a capacitor and also to provide better seperation on segments of audio frequency spectrum.
The BGVP DH5 pricing is currently around US$85/£62 with its packaging box along with its contents inside. The sleeve of the box has different shades of blue-grey with sprinkle of gold and golden stylized calligraphy of a word "DH5" at the front and some information of specification and company's addresses with contact number at the rear.

The contents included inside are:

- Pair of DH5 IEMs.
- 6N OCC SPC bi-colour cable with QDC type connector and 3.5mm termination jack encapsulated with metal jacket.
- a black square circle IEM case.
- 3 pairs of blue ear tips for vocals-centric in different sizes.
- 3 pairs of white ear tips for bass-focus in different sizes.
- a pair of memory foam eartips.
- a cleaning tool.
- some paperworks like a instruction manuals, warranty card , quality control card and a gratitude and info card.
Scalability-wise, BGVP DH5 needs an ample sources to drive it properly for its high sensitivity and low impedance rating. if you want to BGVP DH5 to show its fullest potential, a good DAC/Amp is a must to deliver a better output and fuller dynamics. Both of my LG phones can drive them properly as it show its good dynamics and the coherency of its hybrid drivers performs properly.

The tonality of the BGVP DH5 is more leaning towards on U-shape tuning as it has some boost in the bass, more linear and neutral mids and elevated treble.

These are the sound characteristics of BGVP DH5 in each segment of audio frequency spectrum based on my hearing perception.

LOWS/BASS:

It is a punchy, precise and deliver a coherent quality. It's more on moderate speed as its transient pacing affects the gradual decay that as some people might perceive it as loose and lax if they are looking for more tighter bass, despite of its lax nature, it doesn't bleed across the audio frequency spectrum that will ruin the overall sound quality (still it doesnt quantify as a bass bloat).

It has a fair sub-bass reach as I hear some faint rumbling in the depth. Midbass has a good texture that it will give a thudding sound of a bass kick albeit its more on a leaner and hollow, a mellow yet sustaining growl of a bass guitar and a leaner sounding bass-baritone vocals.


MIDS:

The mids has a linear, clean and substantially added some warmth on it. Vocals on both gender are presented more affront and pronounce more resolution and detail. Take note that there are some particular female vocals that sound almost limp and feels boxy and a little bit constricted (take note on Debbie Gibson and Mariah Carey vocals.) Detail retrieval and clarity somehow rated at above average, its just decent not the best performance of presenting a well-delineate vocal quality. I don't have particular issues on male vocals as it has decent note texture to sound distinctly strong, deep and thick from bass up to tenor vocal ranges. In regards of vocal quality quality, they perform decently with some miniscule of compromises.

All instruments sounds natural and seemingly put up an accurate timbre quality of each specific instruments from melodious and warm sounding of an acoustic guitar to precise and rattling sound of a snare drum. For me, the quality of these instruments performs well as it was well-presented of a good harmonious respond on both vocals and instrument in the mix given to its pricing and value.


HIGHS/TREBLE:

Smooth, crisp and has good airy extension, that's what my initial impression on BGVP DH5's treble quality. It has substantial definition on its detail retrieval and a sparkling to sum it up to be a resolving treble.

Another noticeable thing that I observe in such manner was its very minimal to zero sibilance despite on some peaks on uppermids to presence part of treble as it was controlled the hissing sound appropriately to avoid unpleasant and fatiguing listening experience.

The cymbals, triangle chimes has a shimmer amount of details with a quantifying airy sound while the hi-hats/lo-hats has that snappy and dull sounding that really sounds organic and lively closer like from a live performance.


SOUNDSTAGE AND IMAGING:

Based on my estimation on its dimension on a perceived imaginary sound field, It has an above average soundstage width, a substantial depth and more emphasis on height.

The separation aspect is sufficient as I feel the adequate gaps and spacing of each instrument and singer/s. Layering isn't particular impressive but not to the point that it is a bad one but due on how it display the rows and stacks of each instruments in more linear fashion. Imaging performs good as I can pinpoint accurately the locations and cues on positioning of vocal/s and instruments in a spatial room.

As I end my assessment of BGVP DH5, while this is not the most resolving and the best detail retrieval set in the audio market, BGVP finally provide us an affordable IEM that will give you a good price to value ratio with decent quality that you will only find on more pricey midrange segment as it has a choice Knowles BAs and an impressive built and ornate UIEM shell with considerable quantity of included accessories.
SPECIFICATION:

MODEL: BGVP DH5
IMPEDANCE:19Ω
SENSITIVITY: 119dB
FREQUENCY RESPONSE: 10Hz-40KHz
CABLE LENGTH: 1.2M
PIN TYPE: 2-PIN CONNECTOR (QDC TYPE)
PLUG TYPE: 3.5mm
DRIVER UNITS: 1 Beryllium-coated DYNAMIC DRIVER + 4 BALANCED ARMATURE DRIVER (Knowles and Custom-BA for BGVP)

Some Tracks Tested: ( * = 16-bit FLAC, ** = 24-bit FLAC, *'* = MQA, '*' = DSD, *'= .WAV)

Alison Krauss -When You Say Nothing At All *
Jade Wiedlin - Blue Kiss**
Led Zeppelin - When The Levee Breaks **
Mountain - Mississippi Queen *
Queen - Killer Queen **
Guns N' Roses - Patience *'*
Eric Clapton - Tears in Heaven '*'
Sergio Mendes- Never Gonna Let You Go '*'
Pearl Jam - Daughter **
Roselia - Hidamari Rhodonite *
Assassin - Fight (To Stop The Tyranny)*
Celtic Frost- Visual Aggression *
New Order - Blue Monday *
The Corrs- What Can I do (unplugged version) *
Jimi Hendrix Experience - Voodoo Child *
The Madness- Buggy Trousers *
Metallica - Motorbreath **
Mariah Carey- Always Be My Baby *
Destiny's Child - Say My Name *
Malice Mizer- Au Revoir *
Mozart - Lacrimosa *
New York Philharmonic Orchestra - Dvorak- Symphony 9 " From the New World." *
Eva Cassidy - Fields of Gold (Sting cover)*
Michael Jackson - Give In To Me *
Exciter - Violence and Force *
Diana Krall - Stop This World **
Debbie Gibson - Foolish Beat *'*


P.S.

I am not affliated to BGVP HIFI nor receive monetary incentives and financial gains as they provide me a review unit for an exchange of factual and sincere feedback from yours truly.

Once again, I would like to thank to BGVP HIFI for providing this review unit, I truly appreciate on their generosity towards me and other reviewers.

If you are interested this IEM product from BGVP, Just check their FB Page and offiical site links below:

FB: https://m.facebook.com/BGVPaudio/

Official Site: http://www.bgvp-hifi.com/