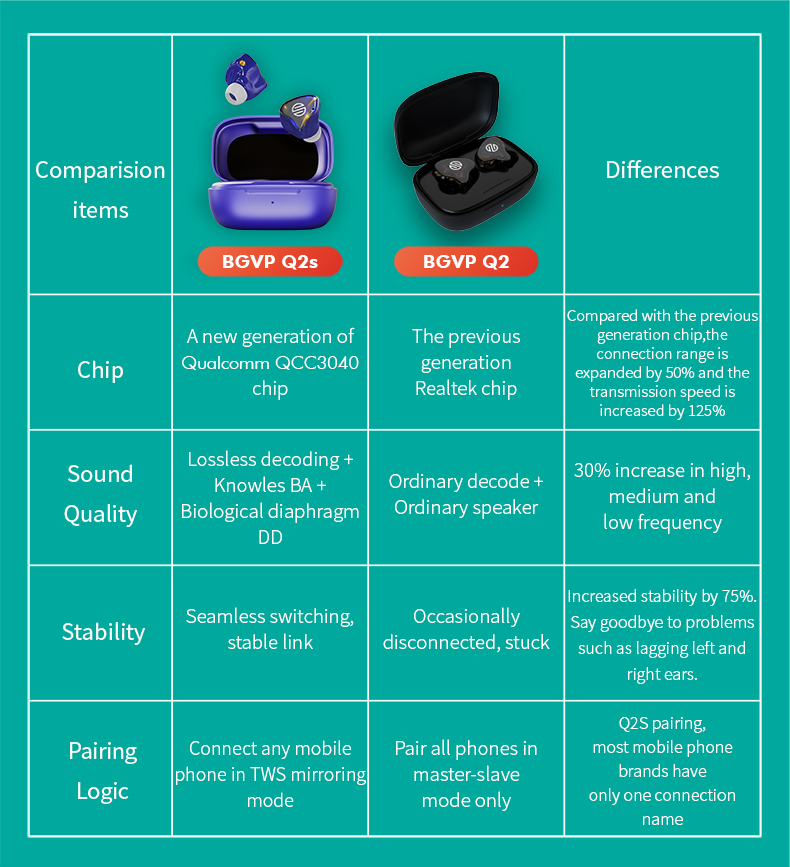 BGVP Q2s
Latest flagship wireless Bluetooth
Knowles+biolodical-diaphragm dynamic deiver + MMCX dual-ese ear eaephone
New qualcomm QCC3040 chipset
Redfine HiFi Bletooth 5.2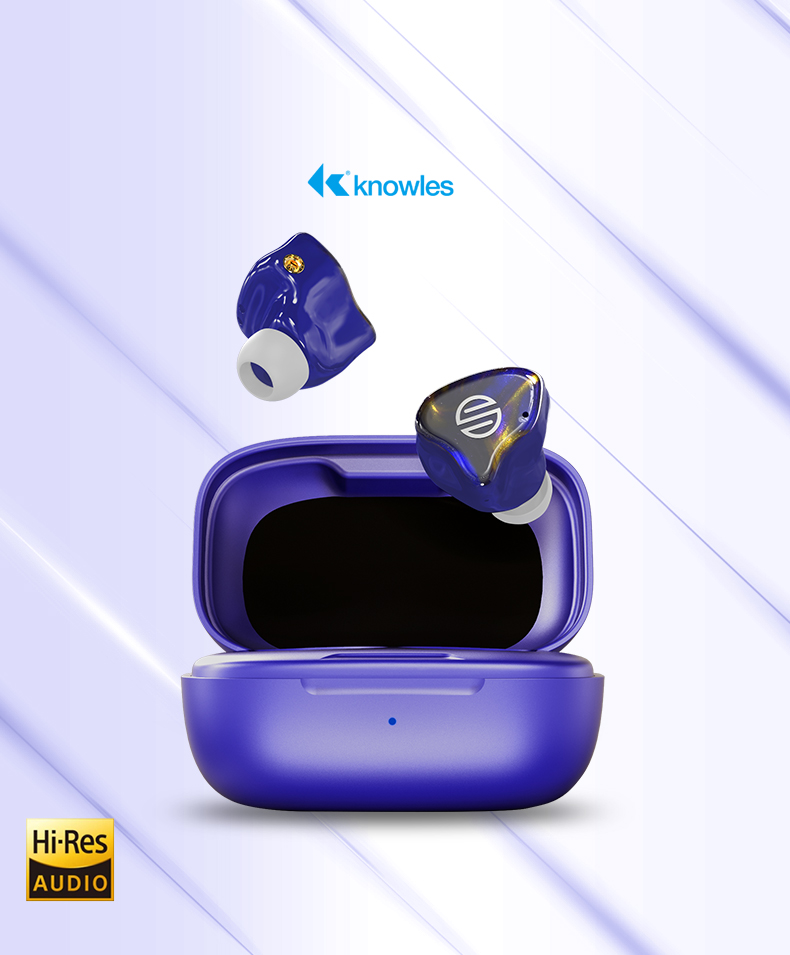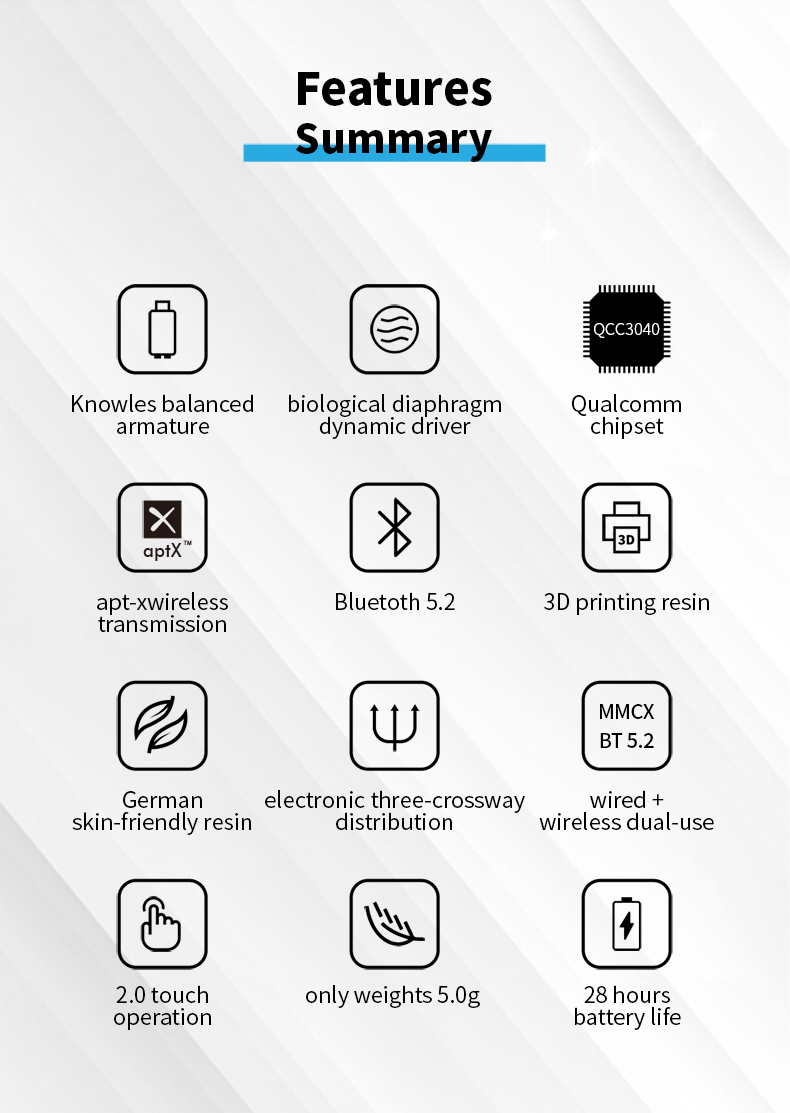 Leading Generation of Bluetooh 5.2 Chip
The new Qualcomm QCC3040 Bluetooth 5.2 smaet chipsrt supports high-defin CD-quality APT Xlossles teansmisson. Compare QCC3040 technology. the new QCC3040 bring a all-round improvement, better sound quality , more srable connection , and lower power consumprion.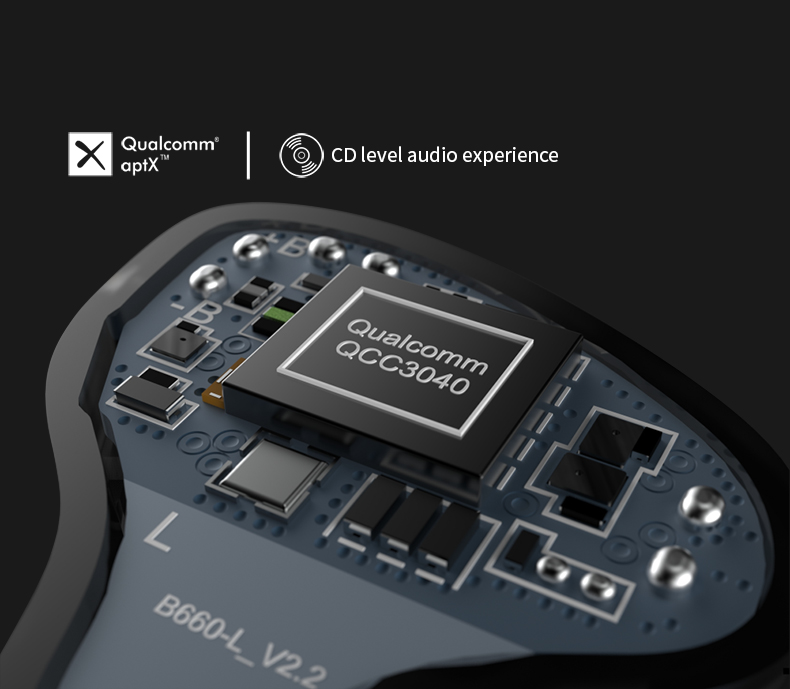 U.s. Imported Knowles Balanced Armature Units
Featureed balanced armature hybrid sounding system,by using Knowles RAF-32873 as the upper mids frequency unit,can greatly increase the density and extension of the high frequency, making it sounds more pure and natural.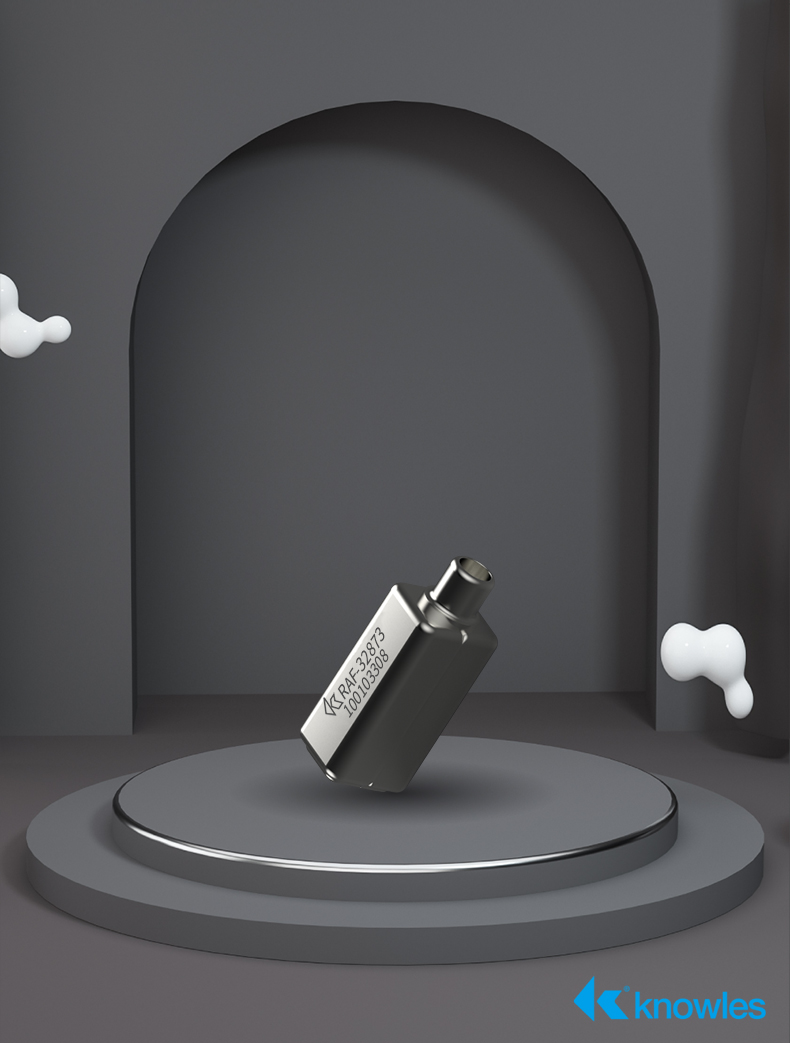 Bio-diaphragm Dynamic Driver Customizedfor Q2s
The new 6mm bio-diaphragm dynamic driver products a low distortion and fuller bass frequency, yet a fuller and sweeter vocal along with relaxing sound tuning Making it sounds more balanced and natural.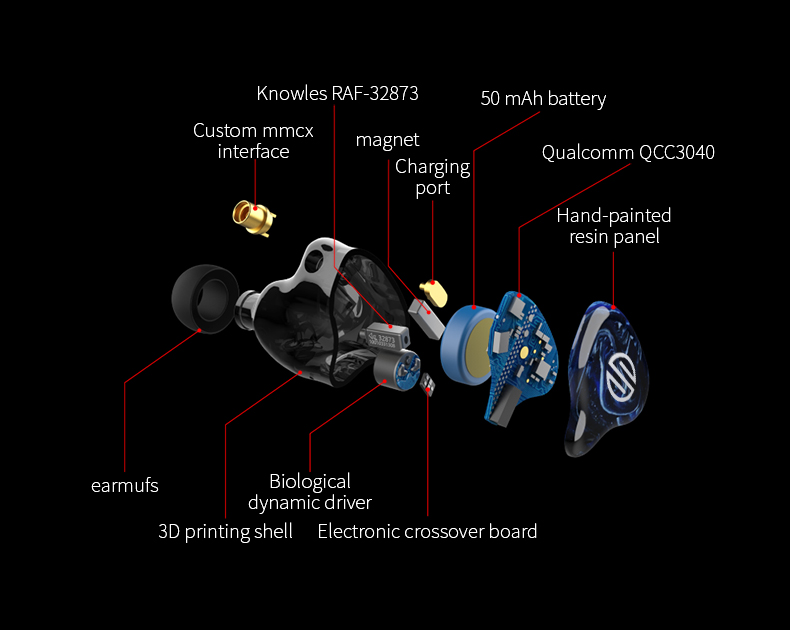 Ingeniously Designed Electronic Frequency Distribution
The sophisticated balanced armature hybrid crossover technology brings you a more shocking soundstage effect, reasonably distributed frequency spectrum, making the overall curve becomes more coherent , a sweet vocal with a fatigue free listening experience.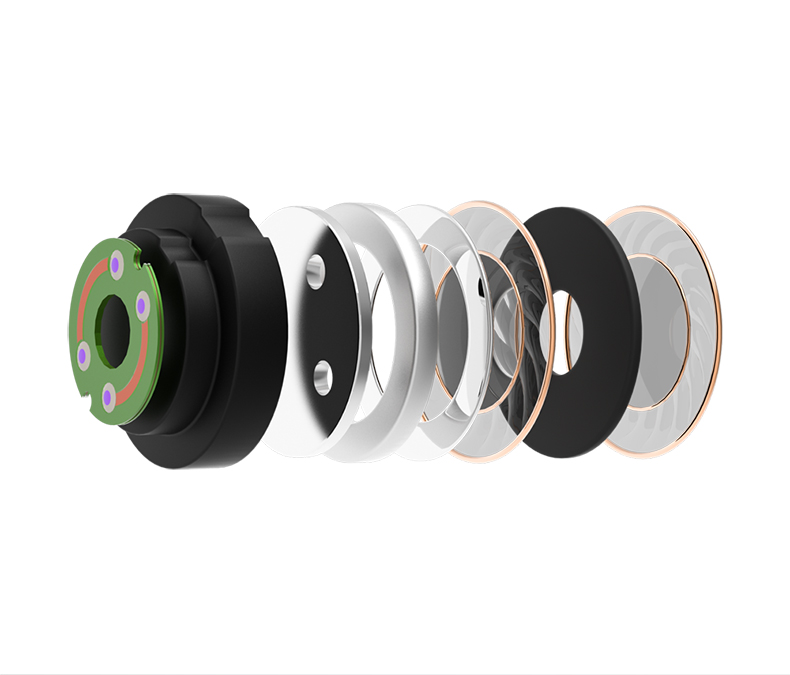 Play All Day to Make Life More Comfortable
300 songs and 15 movies played continuously for 28 hours, no longer worrying about battery life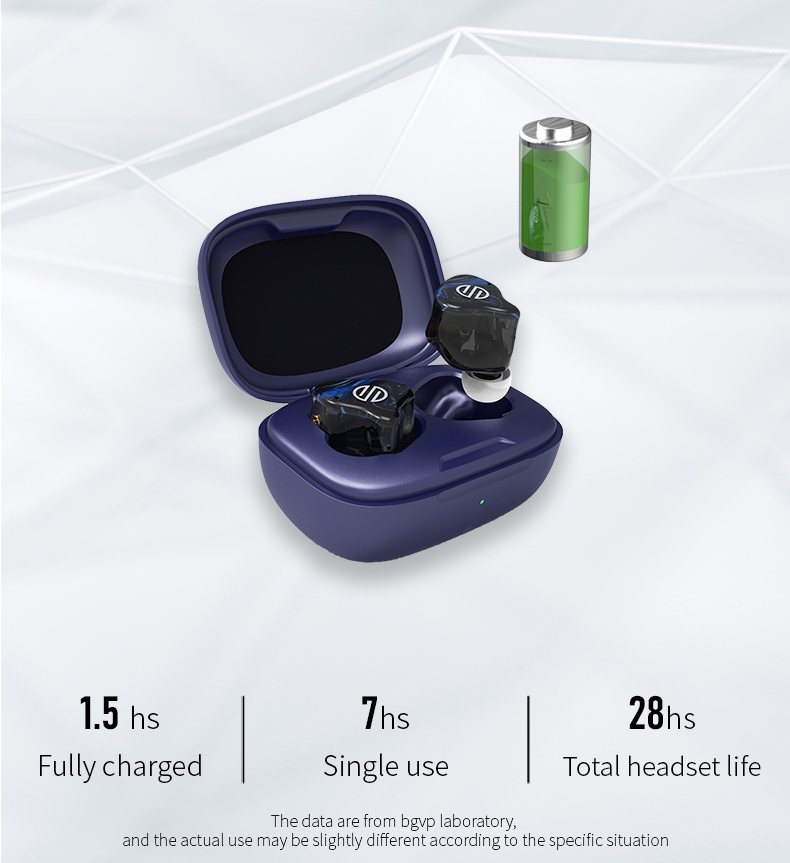 3D Printed Resin Cavity Light As Feather Weighting
Q2s adopts the fourth-generation DLP 3D printing equipment and imported skin-friendly resin materials to make the earphone shell thinner and more comfortable to wear.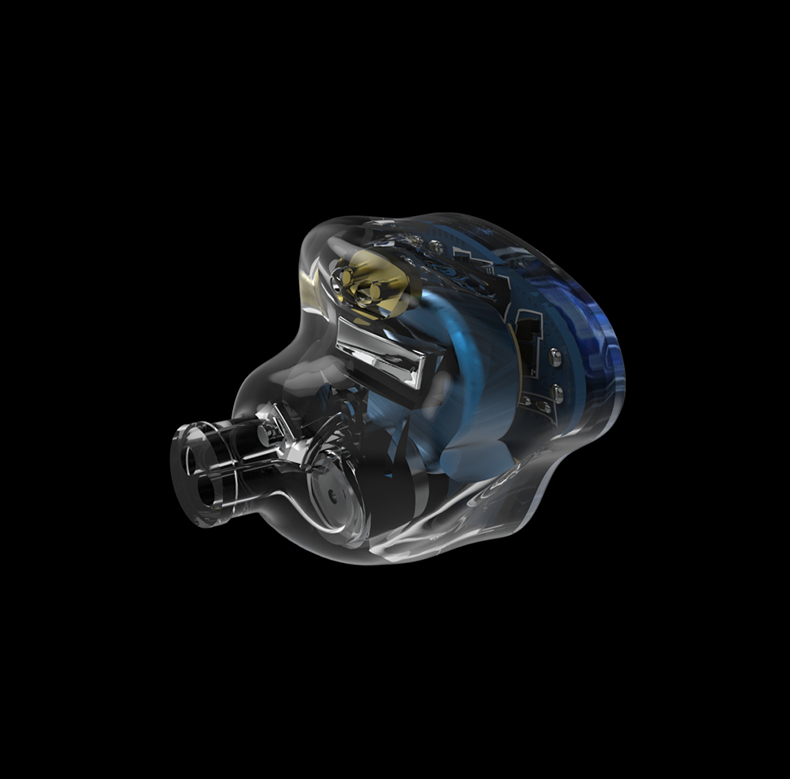 Unexpectedly Compact and Optimized In-ear 3d Structure
With a Light and Thin 5.0g In-ear Design, Bgvp Cooperates with World-renowned Hearing Aid Factories by Using Its Tens of Millions of Eardrum Data for Accurate Comparison Calculations, Calculates a Cavity That Fits Human Ear Comfortably, Which is Not Only Comfortable to Wear, but Also Effective in Reducing Noise Distortion.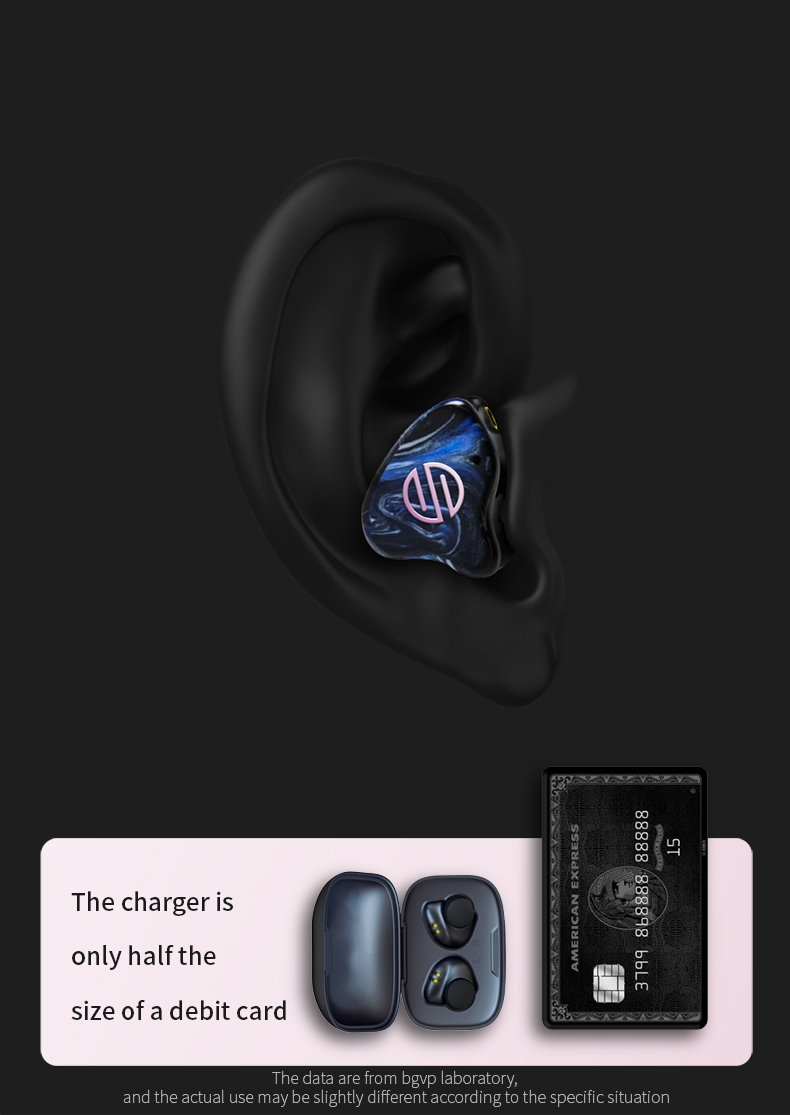 Low Latency Gaming Experience
The new Qualcomm QCC3040 Bluetooth 5.2 chipset has a 75% increase in connection stability compared to the previous generation3020 chipset. The transmission speed is greatly increased by 125%, while the delay is greatly reduced. The 88ms game delay allows you to seize the opportunity of the game. audio and video are well synchronized as well as control and sound. low latency allows you to be the best of the best.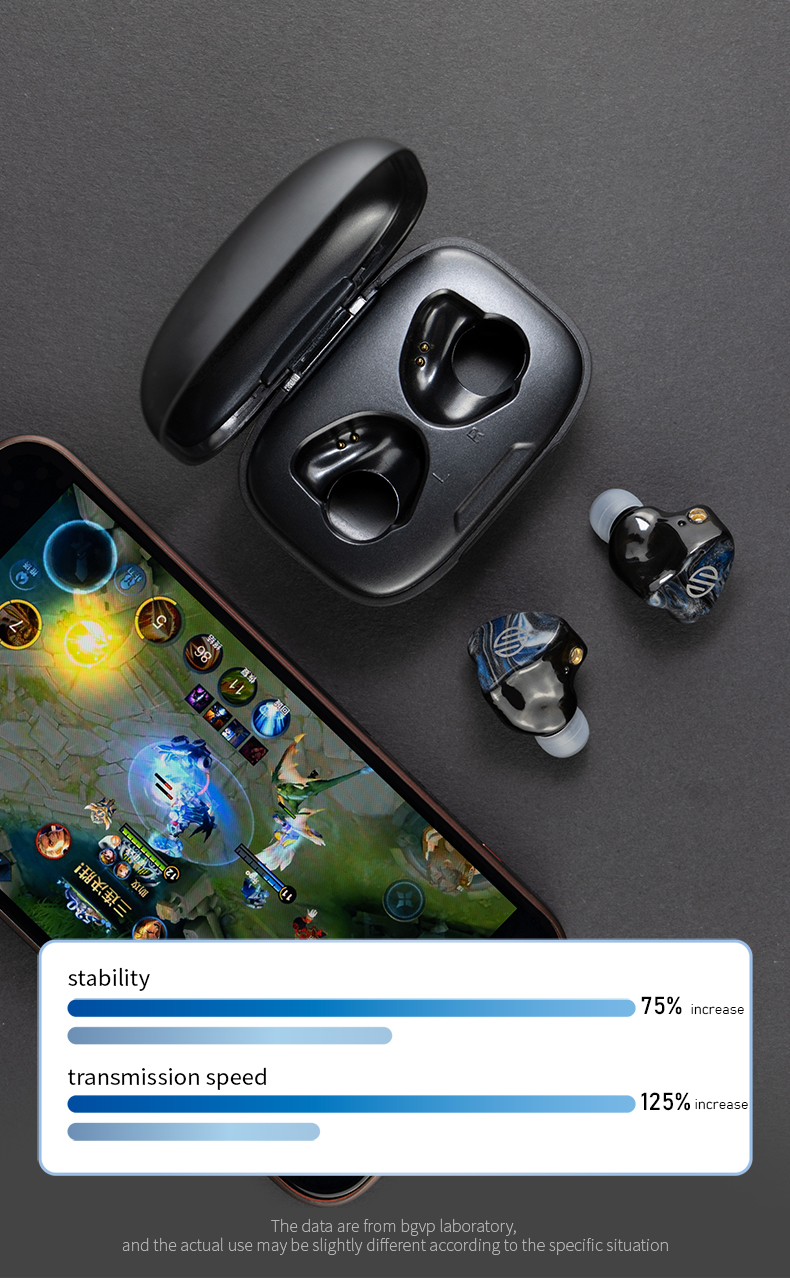 Wired and Wireless Switch Any Time
Q2s adopts both wired and wireless Bluetooth dual-purpose design. When using Bluetooth connection, Bluetooth 5.2 playback mode will be automatically triggered.When Bluetooth disconnected and cable has been inserted , high quality wired playback mode will be triggered.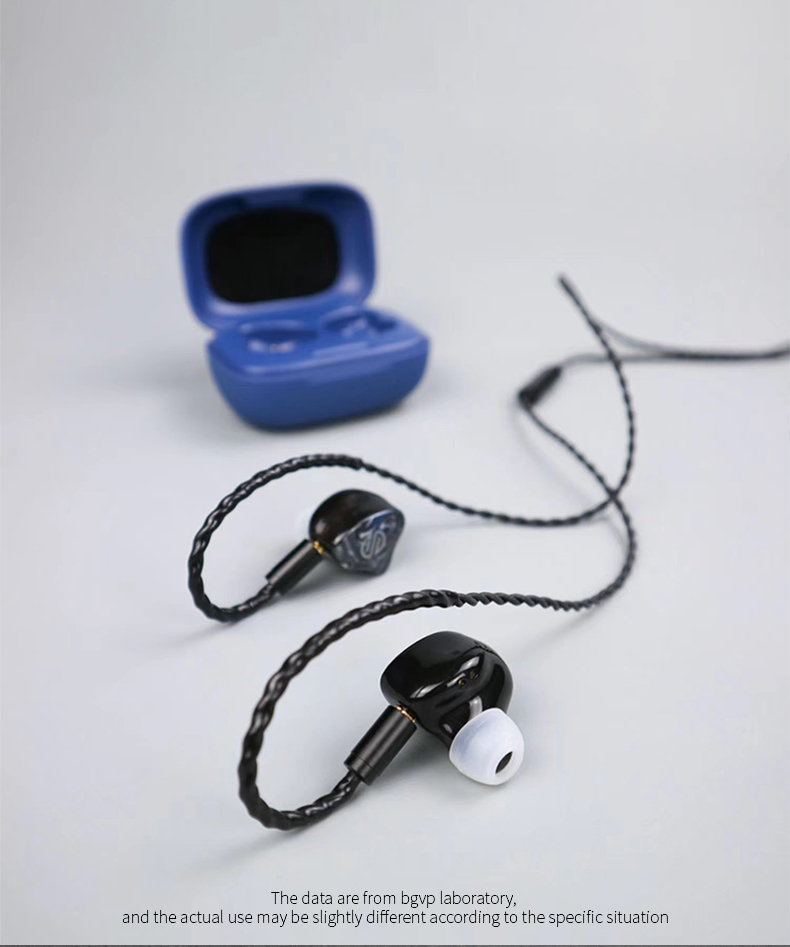 The Eighth-generation Cvc Noise Reduction Microphone Producing a Much Clearer Call
A more intelligent noise reduction technology, equipped with a more advanced physical noise reduction, allowing a much clearer call during phone conversation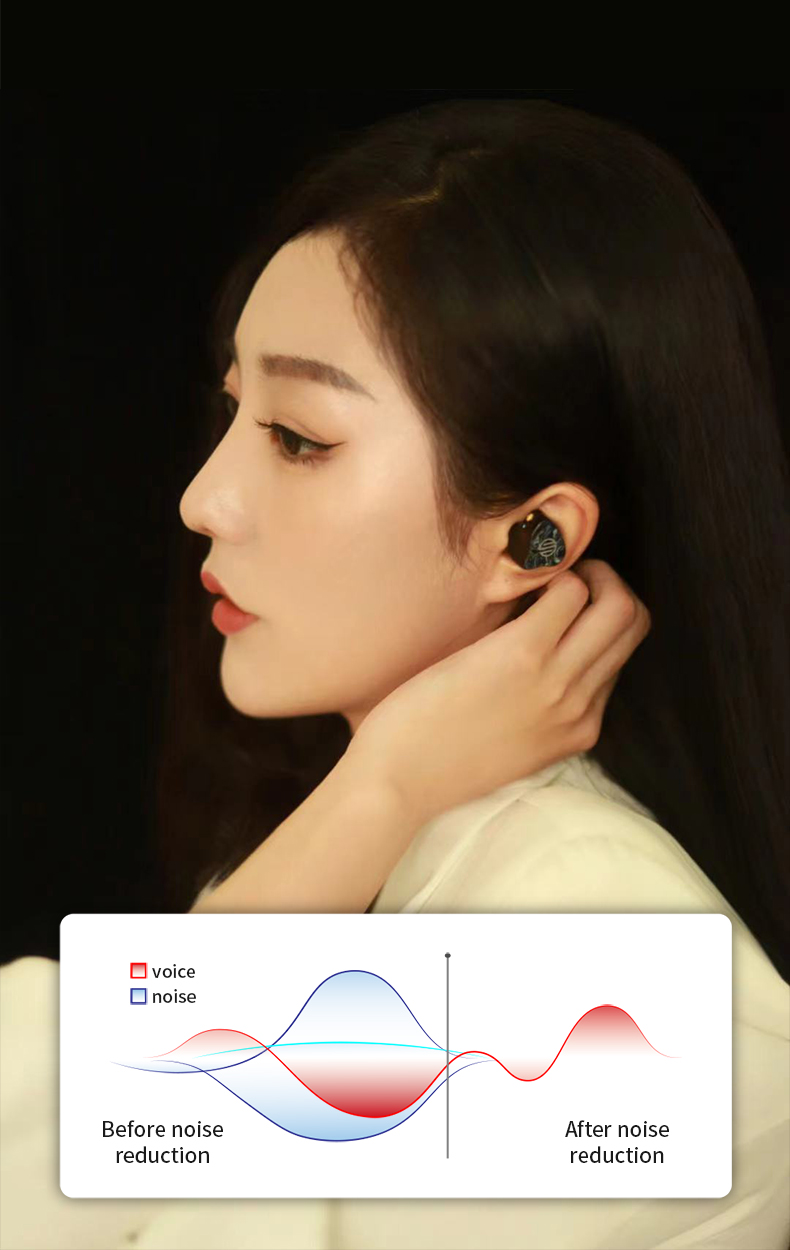 Pick Up and Pair
The new Qualcomm TrueWireless Mirroring technology supports single Bluetooth addressing management, only a single device name appears during pairing, making pairing more convenient.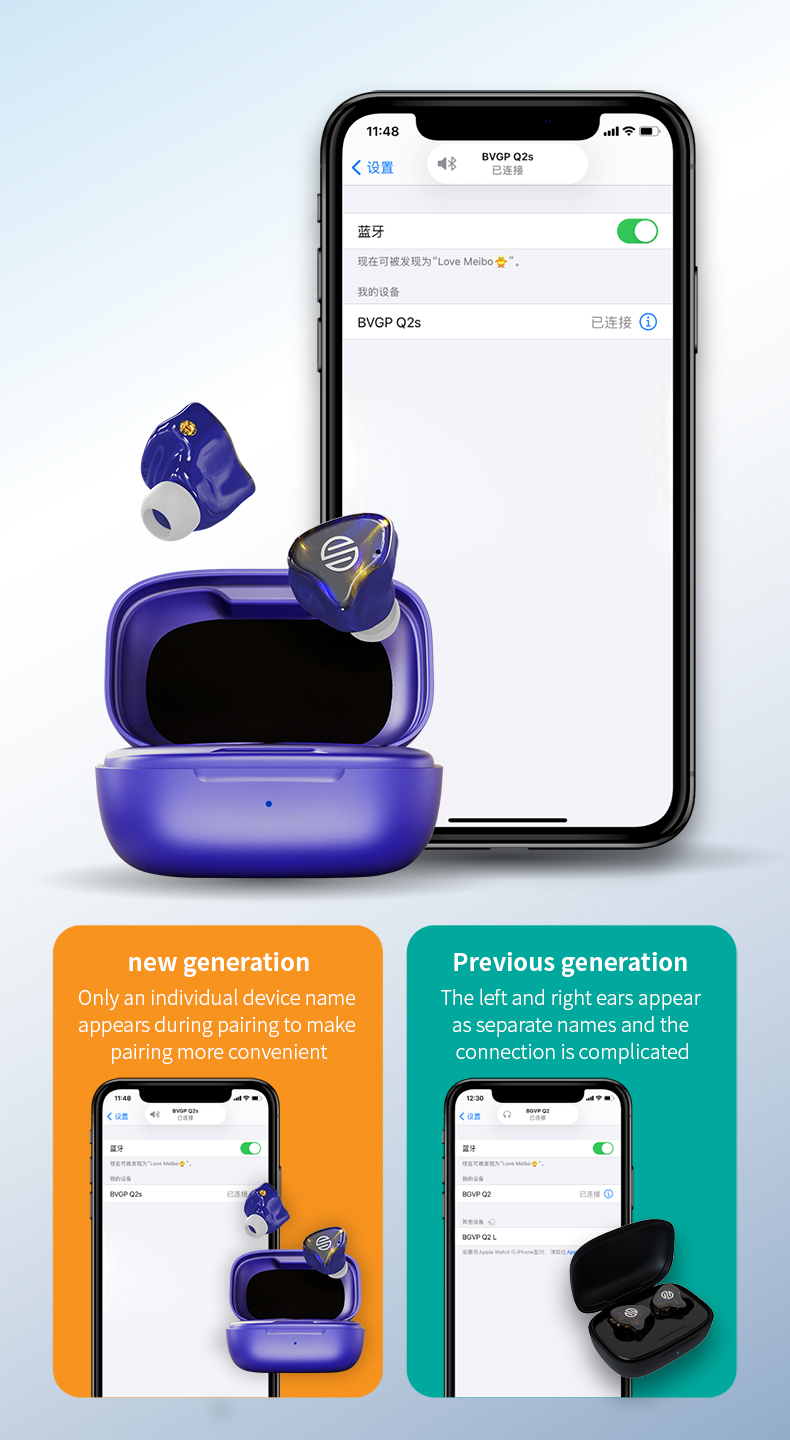 No Need to Distinguish Between the Major and Minor
Both sides are the main headphones QCC3040 brings a new TrueWireless Mirroring technology,which has lower power consumption, implementing seamless connection between left and right ear , greatly improves the stability of the connection, and can be used freely.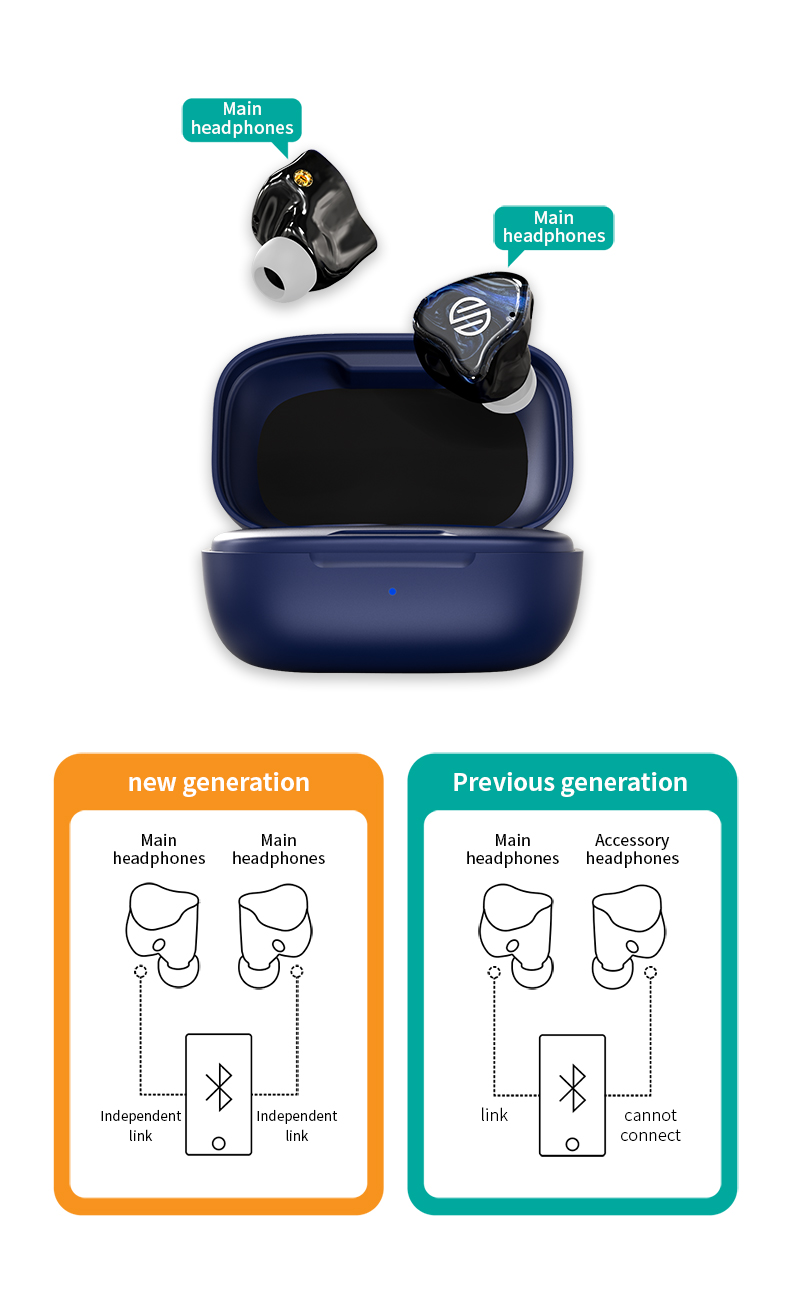 Touch 2.0 Responsive Feedback
The headset has a built-in smart 2.0 touch module,which is convenient to operate, and various commands can be triggered at one touch, bringing you a pressurefree and comfortable feeling experience.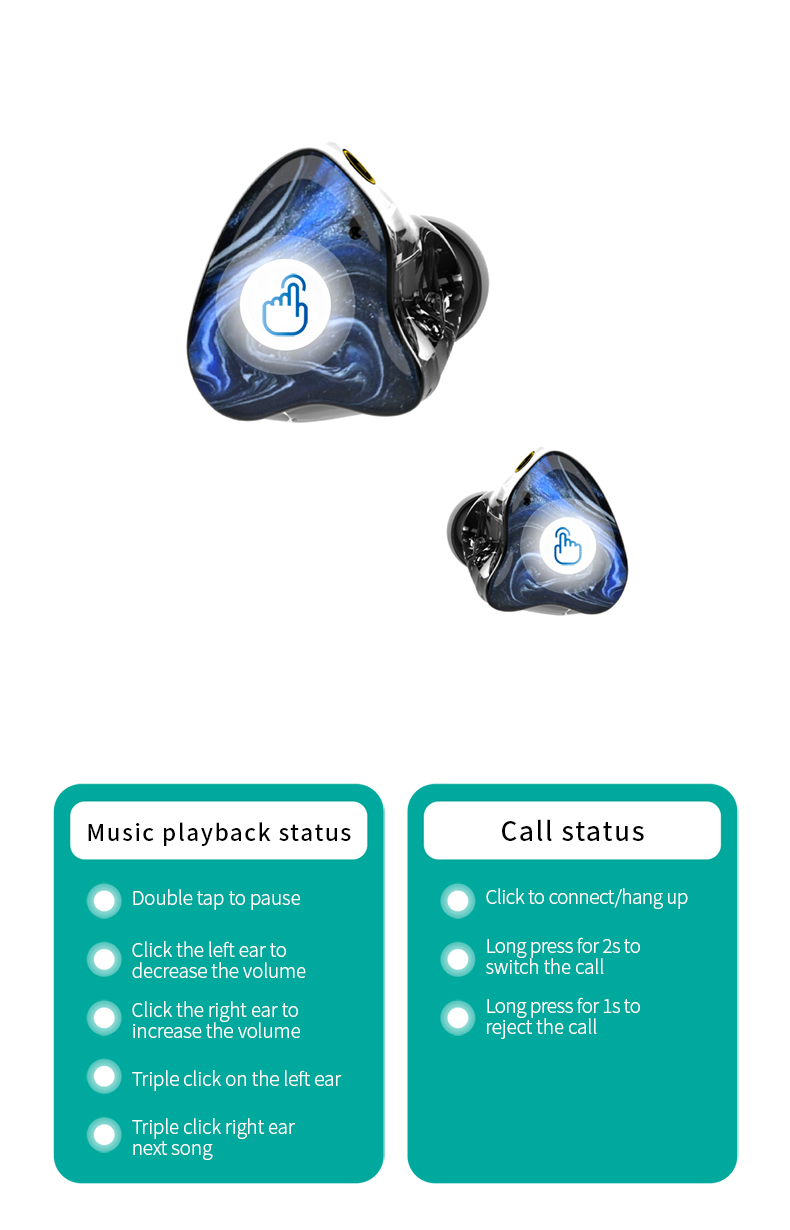 Hi-res High-quality AudioCertification is Here
Q2s has granted the "Hi-Res Audio" certification by the Japan Audio Association.Bringing you a listening experience beyond the CD level.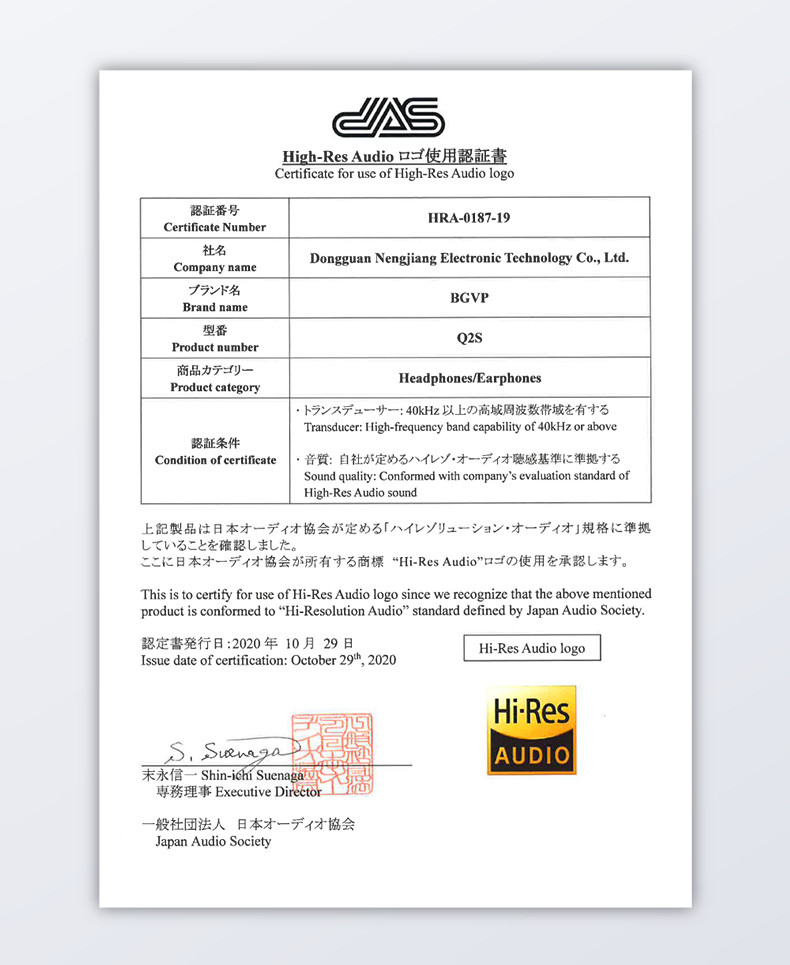 Carefully modulated frequency response curve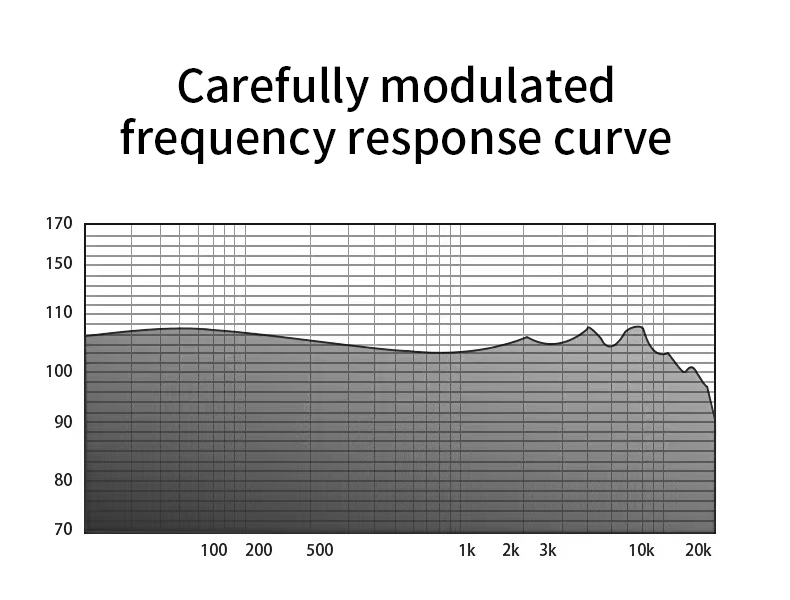 Specification
Product Number:q2s
Driver Unit:1dd(6mm Biological Diaphragm Moving Coil)+1ba(knowles)
Impedance:20Ω
Sensitivity:≥103db Spl/mw
Frequency Response:10hz-40khz
Connection Method:bluetooth5.2+mmcx Output
Bluetooth Distance:20 Meters(under Barrier Free Environment)
Charging Box Battery Specifications:350mah
Earphone Battery Specifications:50mah*2
Earphone Weight:approximately 5.0 Grams
Earphone Charging Time:about 1.5 Hours
Operation Method:touch+tap
Charging Box Weight:about 48h
Life Time:headphone 7h+the Charging Bay Can Provide 3 Times
Charging Method:type-c
Supporting Agreement:apt-x Acc Sbc A2dp Avrcp Hfp Hsp Spp Pbap
The difference between Z4 and G2
1.The plugs are different Z4 is Line Type,G2 is L Bending Type
2. There is a difference in transmission Z4 is made of single crystal copper silver-plated wire. The high frequency is delicate and elegant, and the resolution is strong. The low frequency has energy and the sound is calm.G2 is made of nylon threads, which will retain the original sound quality style and original sound orientation of the headset.
We are committed to researching and developing cost-effective fever products and insist on balancing the three frequencies As a tuning concept, we don't compromise on the quality, Difficulty bowing.We insist on making good products and high-quality services to bring you a differenceThe sensory world.
After-sales policy:
7 days no reason to return, the headset body is guaranteed for twelve months,and the cable is guaranteed for six months.