BGVP-DM7
NEW UPGRATE MODEL
6-BA DRIVERS IEMS
3D Printing Tech | German Medical-Grade Resin Material
All Knowles+Sonion BA Drivers | 4-Way Crossover System
4-Channel | Sound Bore | Customizable Shell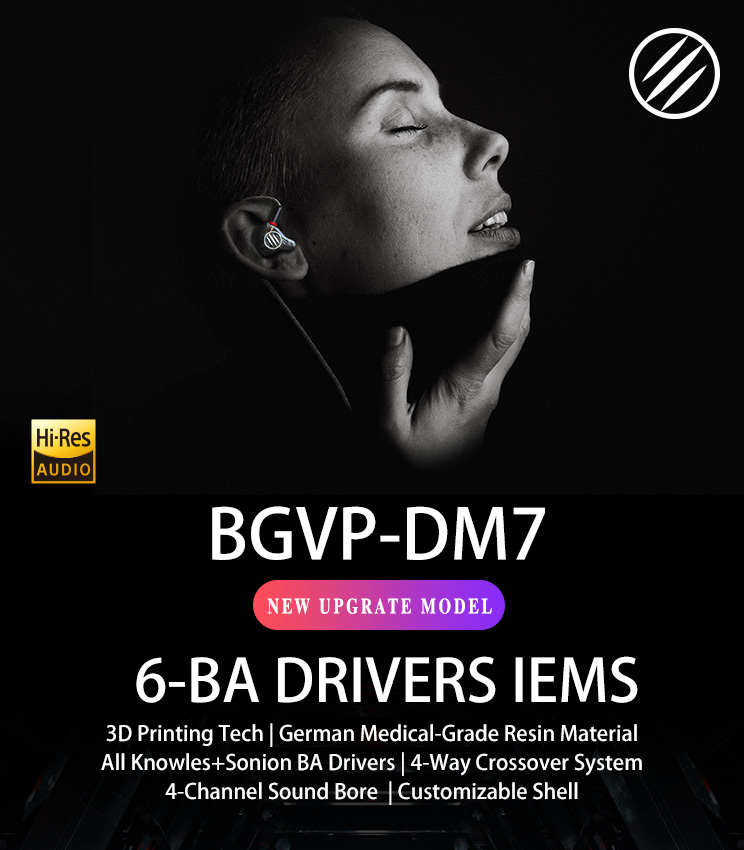 Amazing 6-drivers structure
With a professional,precise celectronic 4-way crossover system,6 BA drivers work well together and present a balanced sound.Beautiful treble,strong air sense,moderate,flexible bass,clear instrumental,high-definition,wonderful voice.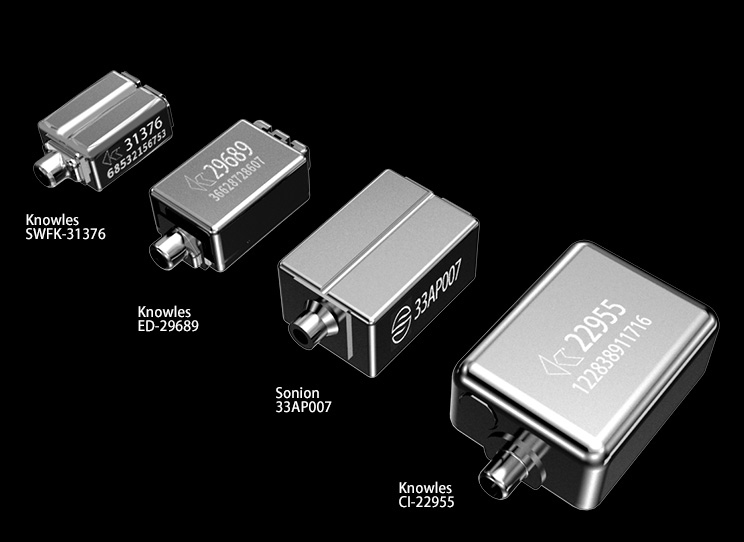 Technical data&Accessories
Drivers:6 balanced-armature drivers
THD:≤0.5%(1kHz)
Frequency range:10Hz-40kHz
Sensitivity:≥115dB SPL/MW
Impedance:13.5Ω
Cable Length:1.2m±5%
Cable Material:Ohno Continuous Casting(OCC)+Silver silk
Weight:about 5.3g
Accessories:Vocal Eartips S/M/L,Balanced Eartips S/M/L,Storage bag*1,Brush*1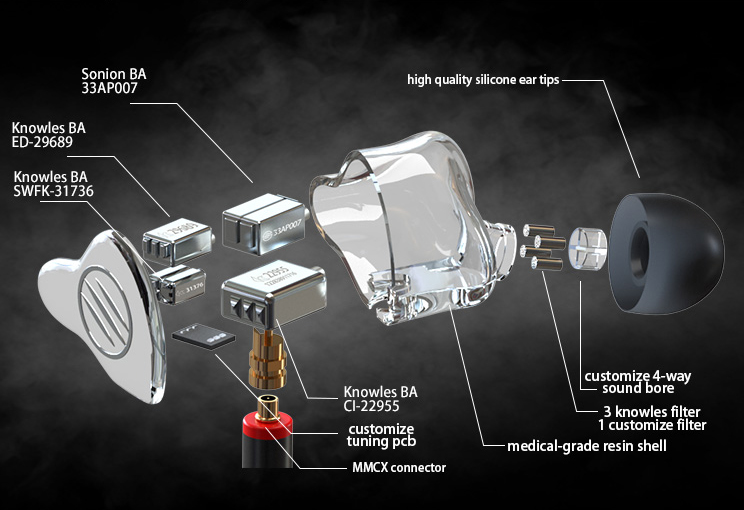 Precisely calibrated frequency response
The overall performance is very balanced and natural.Clear detailed and soft vocal,beautiful treble,strong air sense,moderate,flexible bass,clear instrumental.Intoxicating hearing and high resolution.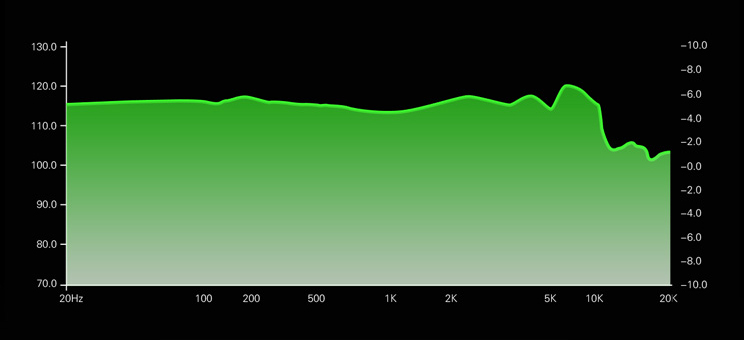 3D printed resin shell
Printed by German EnvisionTEC 3D printing devices.Made of medical-grade PMMA acrylic fiber material.Improved the resistance from high tempreture and impact.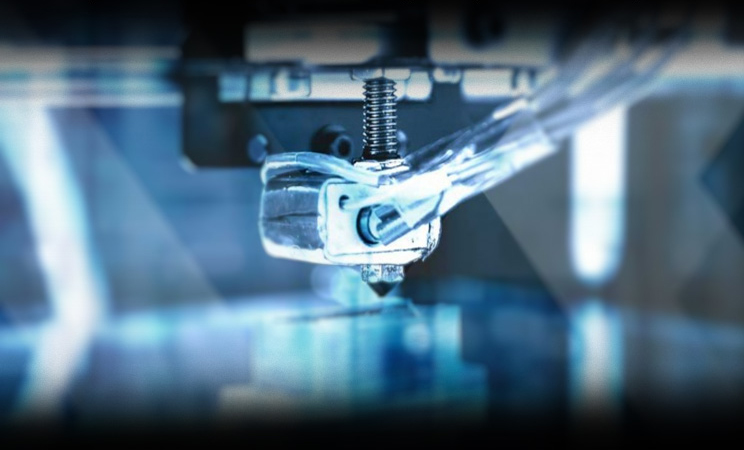 "Gloden tag"Hi-Res Audio Certification
DM7 has been certified as"Hi-Res Audio"by JAS.Giving you the listening experience beyond the CDs.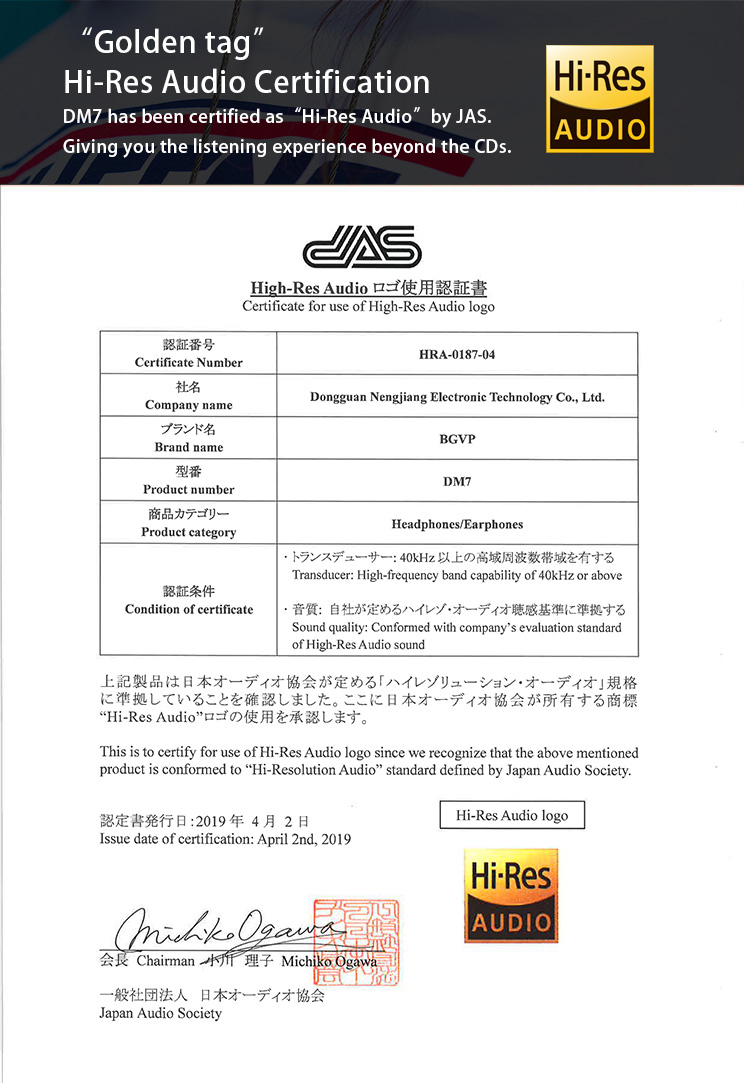 Wearing diagram
1/Notice the left and the right side,remember red for right,other color for left.
2/Put the earphone into the ear.
3/Loop the cable over behind the ear.
4/Try to press the earphone front panel to adjust the tightness.
5/Spin the earphone little to fit the ear if necessary.
6/Start to enjoy the music.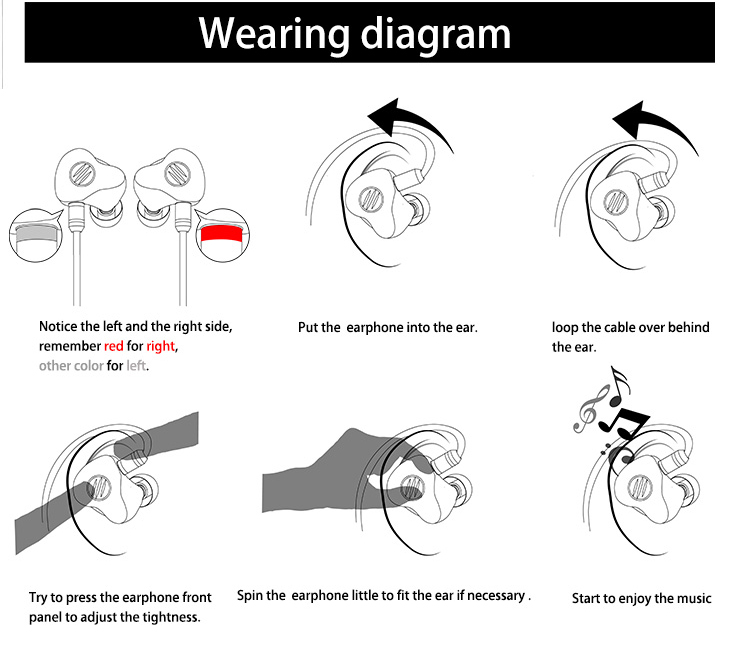 Precisely calibrated 4-way system
DM7 has a high standard 4-way system,the drivers transmits sound waves through 4 separate channels equipped with 3 Knowles filters and 1 patented filter.The channels are reasonably divide the sound into ultra-high,high,medium and low frequencies,with these channels,sounds are smoothly connected,makes the wonderful sound real and vivid,even listening for a long time will not cause fatigue.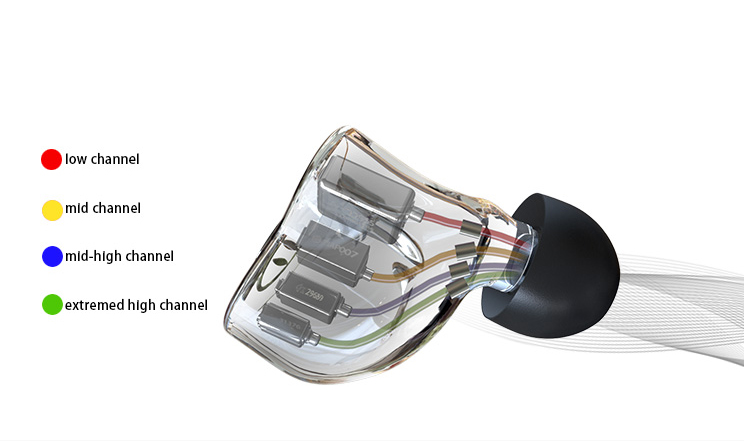 High quality MMCX connectors
Enables multiple connectivity options for long-term device compatibility,upgrades,ease of maintenance.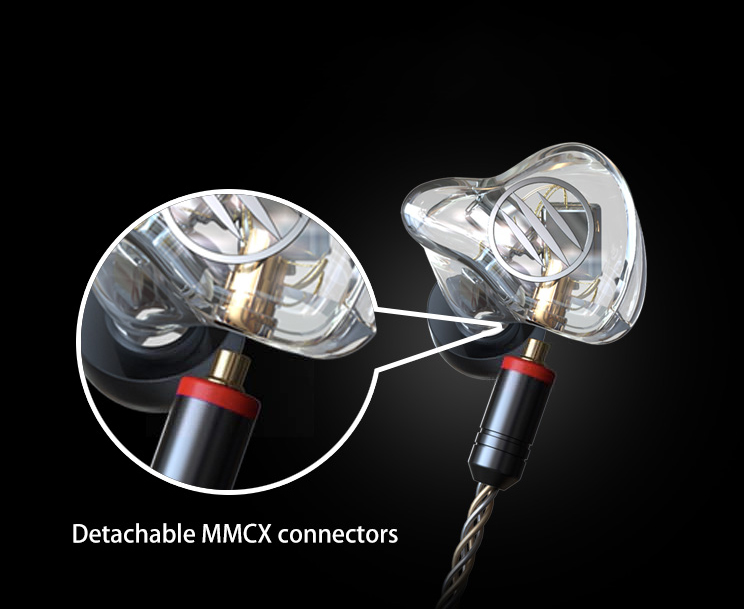 Audiophile-level cable
Come equipped with 8-strands OCC+Siver silk hybrid cable,excellent transmission performance,also relieve troubles of upgrating cables.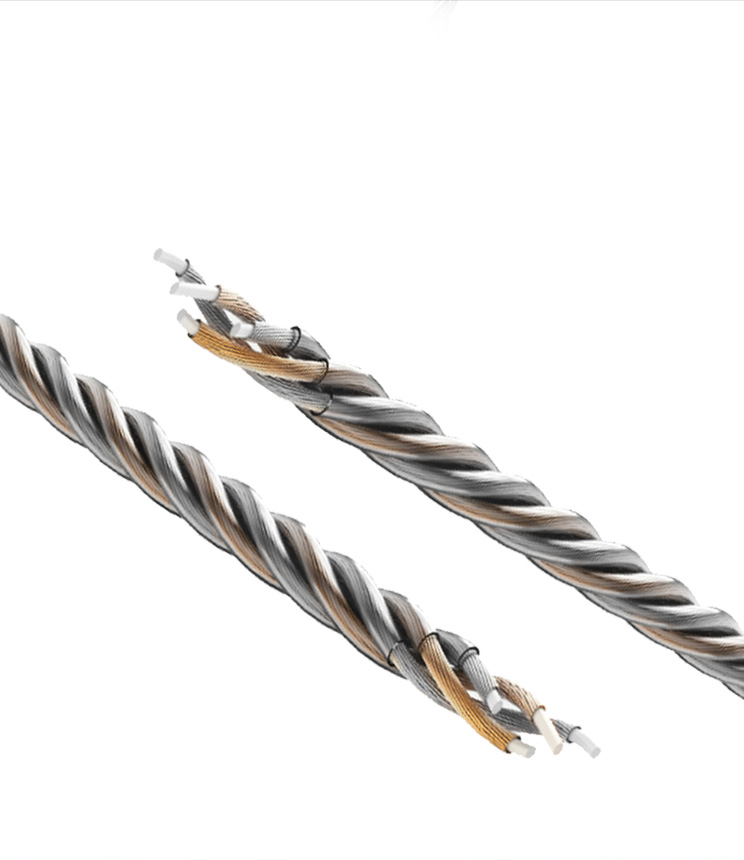 Customized wearing experience
Ergonmic shell shape,fit to ear canal,giving you excellent sound Isolating experience and long-wearing comfort.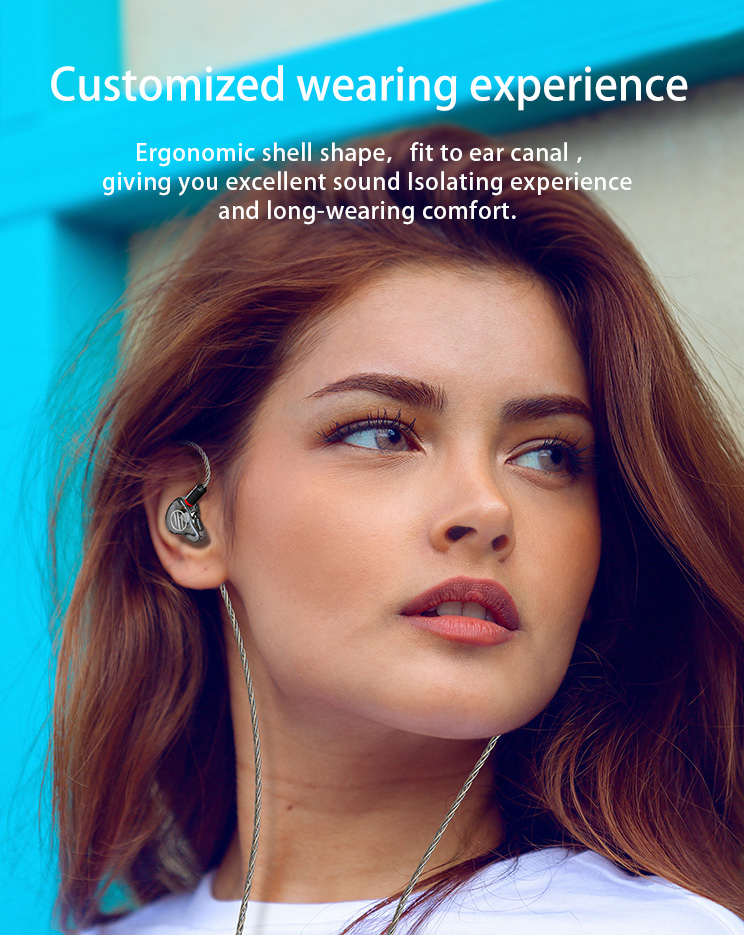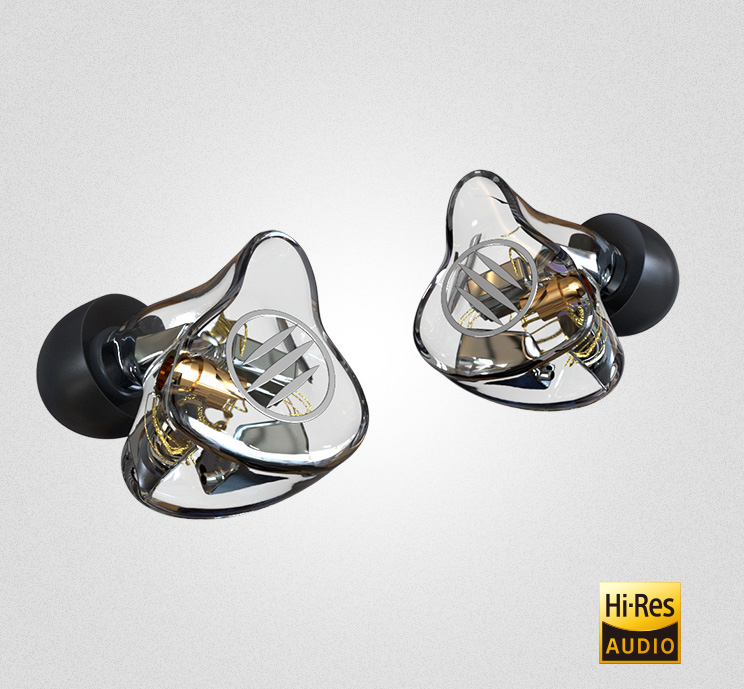 We are committed to the development of high-cost-effective combustion products,insist on the three-frequency equilibrium as the tuning concept.
We strive for the perfection of quality,we must not overreact to the sound quality,we do not bow to any difficulties.
We insist on only doing good products and providing high-quality services.
To bring you a different sense of the world.